The new cube stops in LA, Denver, DC, Seattle, and much more.
After adopting the Ticketmaster Verified Fan System just days ago – and in doing so, perhaps accidentally revealing every city the block v3 tour will be hitting – Joel Zimmerman, more popularly known as deadmau5, has officially announced all of the stops on his new North American tour.
The tour kicks off in Dallas on September 12th passes through 16 cities over the course of five months. The Hollywood Palladium, Red Rocks Amphitheatre, Boston's House Of Blues, and the Navy Pier in Chicago are included, among many other notable stops.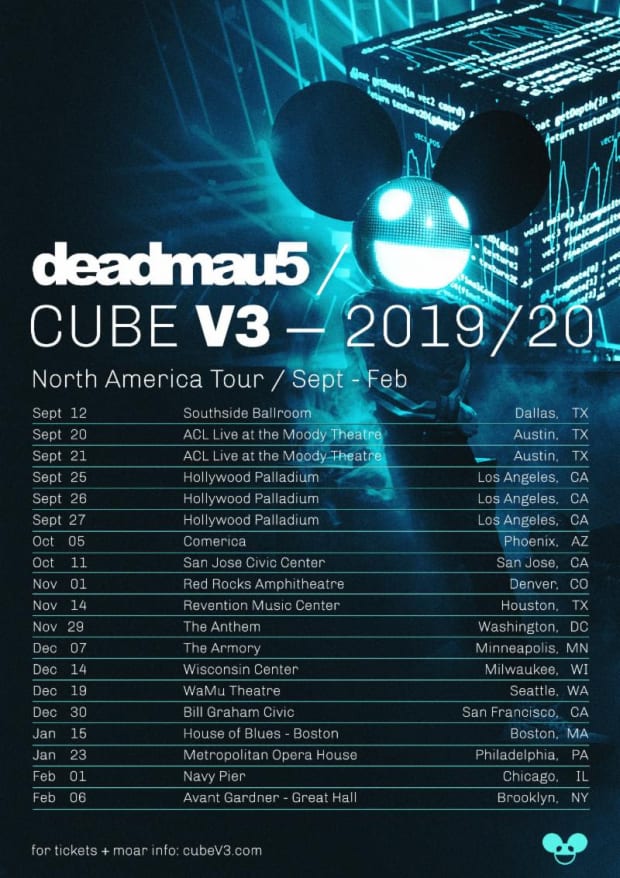 The new cube v3 production will be seen by fans across North America throughout the entire tour, and will be debuted at Ultra Music Festival this Saturday, March 30th and live streamed through Ultra's site . Fans have been eager to see the new production live after many teaser movies and photos were posted to Zimmerman's Instagram over the past couple months.
The block v3 tour marks Zimmerman's fourth major North American block tour, with new features he created himself, along with Chris Schroeder and Collyns Stenzel. It promises to be the most complicated and complex stage production from deadmau5 yet.
Tickets for the block v3 tour are available to the general public on Friday, March 29th at LiveNation.com.
Follow deadmau5:
Facebook: facebook.com/deadmau5Twitter: twitter.com/deadmau5Instagram: instagram.com/deadmau5SoundCloud: soundcloud.com/deadmau5
Buy Tickets for every event – Sports, Concerts, Festivals and more buytickets.com