Looking for a romantic travel idea? There's no denying the romance of train travel and the luxury rail-tour company Rocky Mountaineer is having a pretty sweet deal for the entire month of February. Couples can take up to $825 off rail and hotel packages for travel this spring and fall.
For more TPG news delivered each morning to your inbox, sign up for our daily newsletter.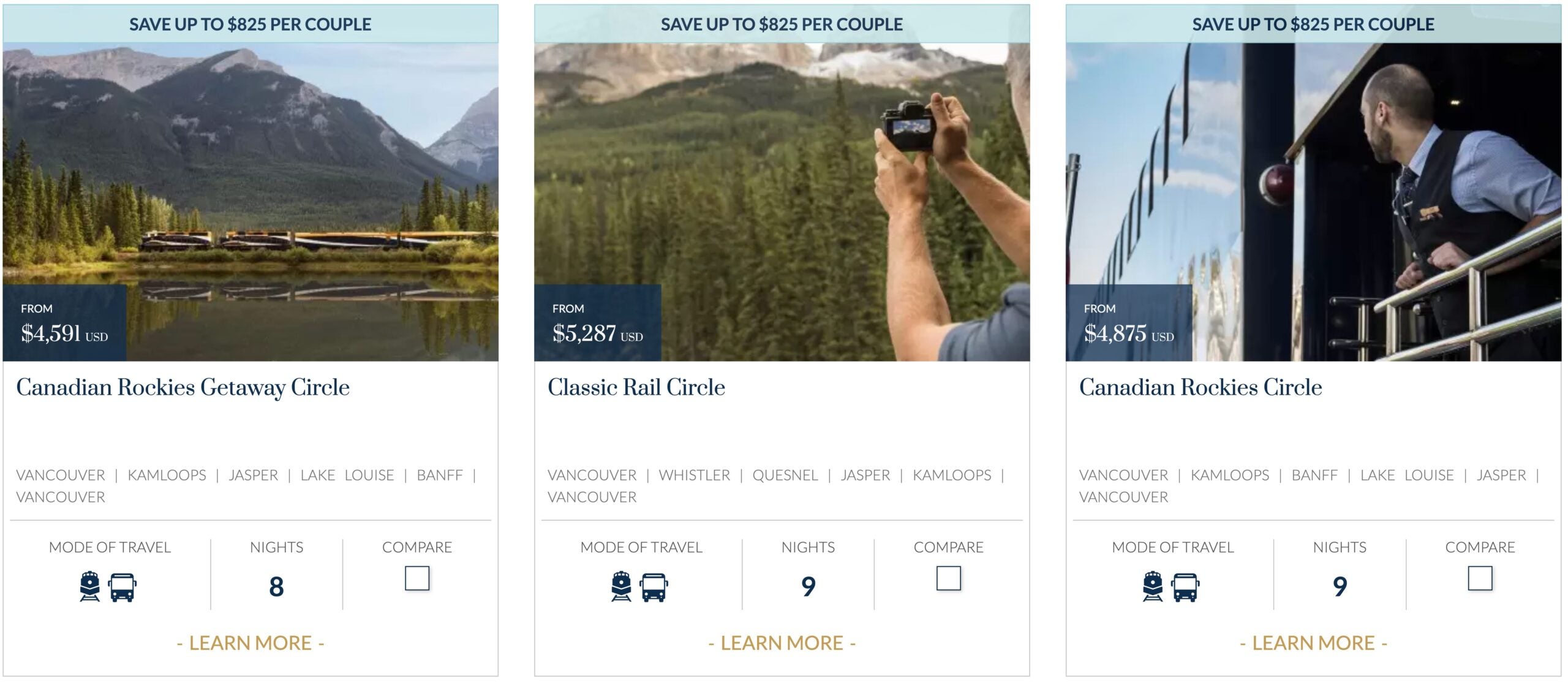 (Screenshot courtesy of Rocky Mountaineer)
Deal basics
Train: Rocky Mountaineer
Routes: Canada and U.S.
How to book: Directly through Rocky Mountaineer
Travel dates: April, May, September (US only) and October 2022
Book by: February 28, 2022
Related: 4 last-minute flight redemption deals for Valentine's Day
The $825 off per couple actually works for single travelers or an odd number of passengers as well, so it is essentially $412.50 off per person if you book by the end of February. Both SilverLeaf and GoldLeaf bookings will be discounted.
Where can you go on Rocky Mountaineer trains?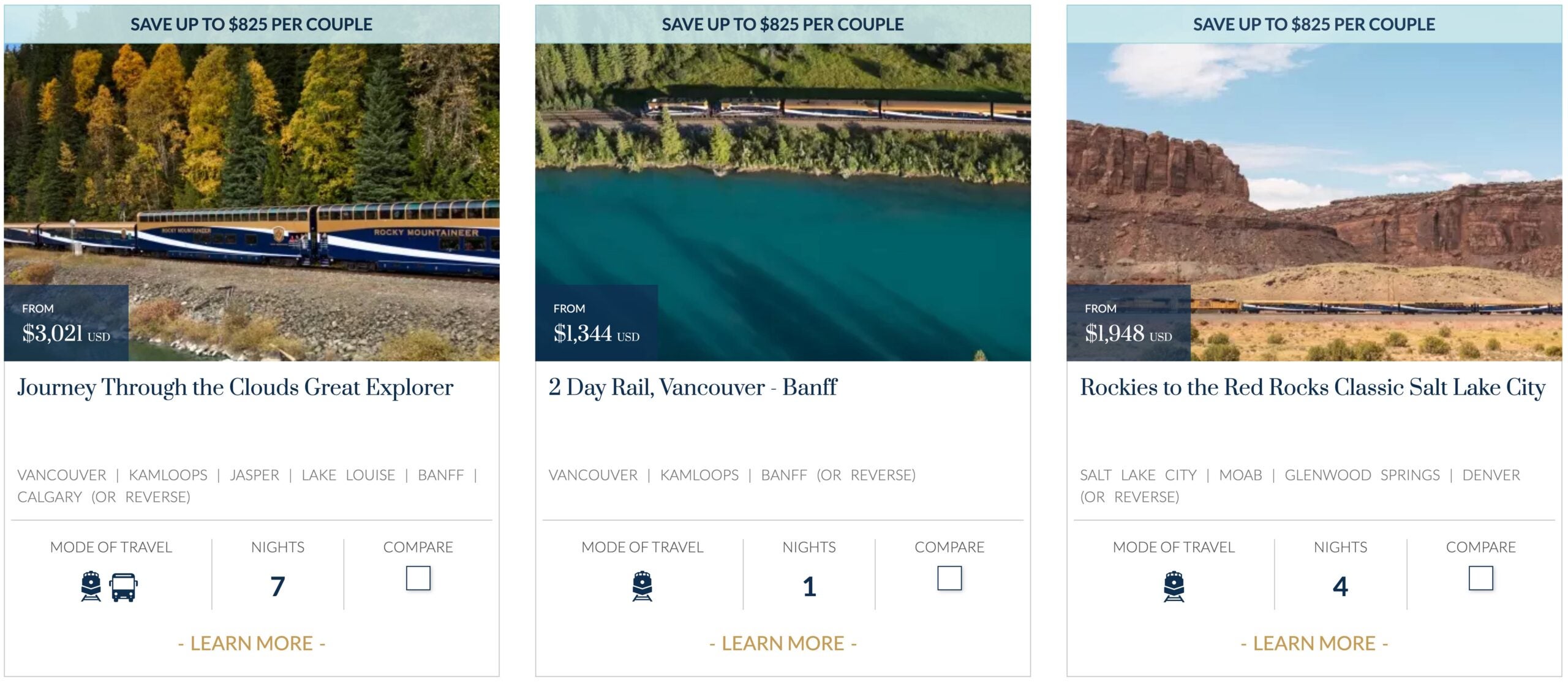 (Screenshot courtesy of Rocky Mountaineer)
The Vancouver-based company primarily runs scenic train routes in western Canada but added a new U.S. route in 2021. You can now enjoy a train ride with large glass-dome windows on four distinct routes.
First Passage to the West (Vancouver→Kamloops→Banff/Lake Louise)
Journey Through the Clouds (Vancouver→Kamloops→Jasper)
Rainforest to Gold Rush (Vancouver→Whistler→Quesnel→Jasper)
Rockies to the Red Rocks (Moab→Glenwood Springs→Denver)
Certain packages also include coach transfers and extra nights to connect to hub cities such as Salt Lake City and Calgary. There's also the opportunity to combine the routes as part of a circle journey to explore western Canada for a full week or more.
What is the difference between SilverLeaf and GoldLeaf?
Both service levels include onboard dining, alcoholic and non-alcoholic beverages, glass-dome windows, outdoor viewing areas, storytelling hosts, luggage handling and enhanced flexibility.
The GoldLeaf seating is more spacious with bi-level dome seating and full glass-dome windows with panoramic views. It also has gourmet á la carte meals in a special dining room, a larger exclusive outdoor viewing platform and a higher-level hotel accommodation at overnight stops.
The Rockies to the Red Rocks rail route in the U.S. does not have GoldLeaf service. Instead, it offers a SilverLeaf Plus service, which includes a special lounge car, signature cocktails and additional meal choices.
Sample bookings
Rail journeys between Vancouver and Banff start from $1,344 per person at the SilverLeaf level, which means a couple can book this two-day, one-night package for a total of $1,863 on a few dates in April and October during this promotion. Prices will vary by month.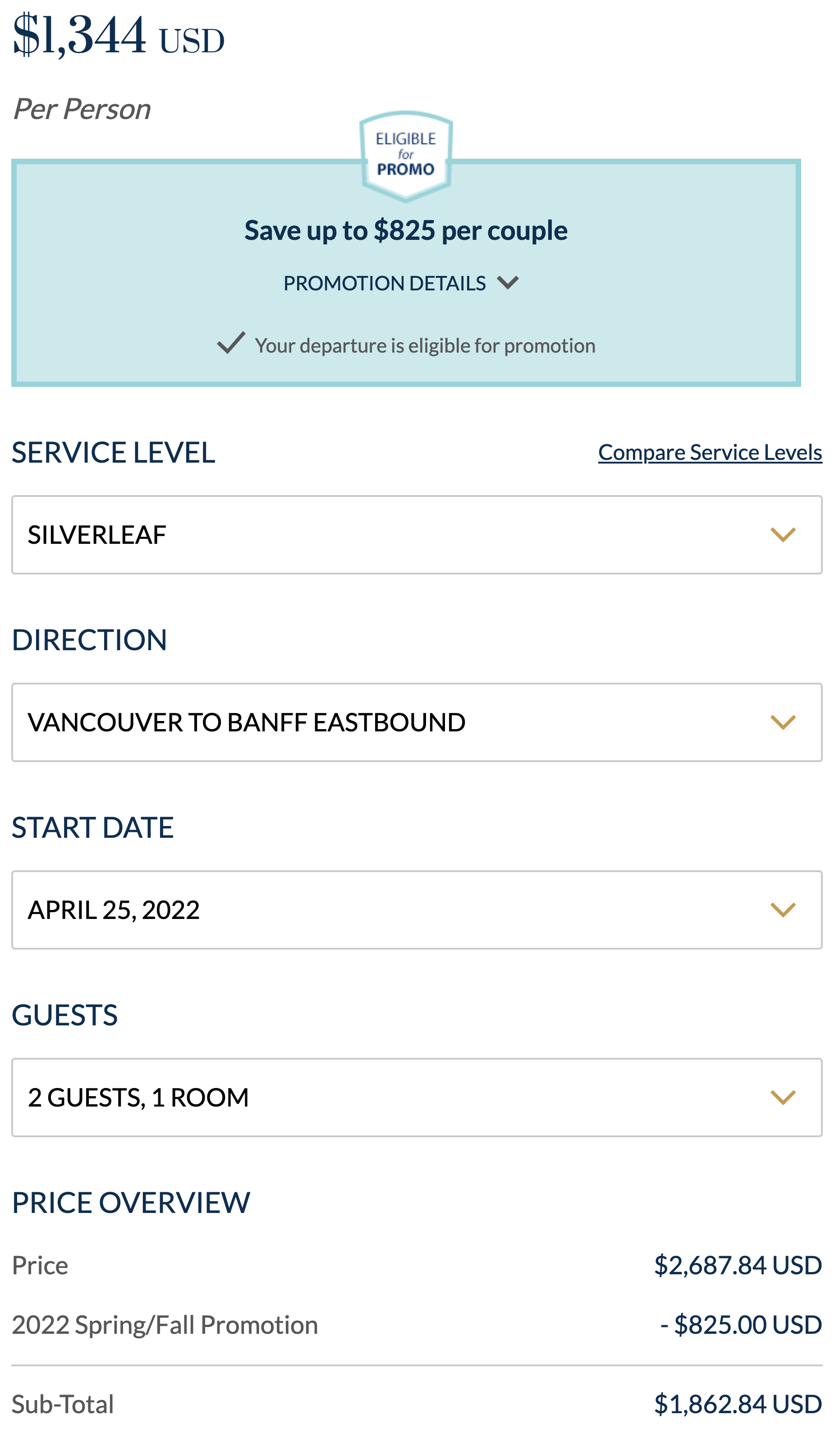 (Screenshot courtesy of Rocky Mountaineer)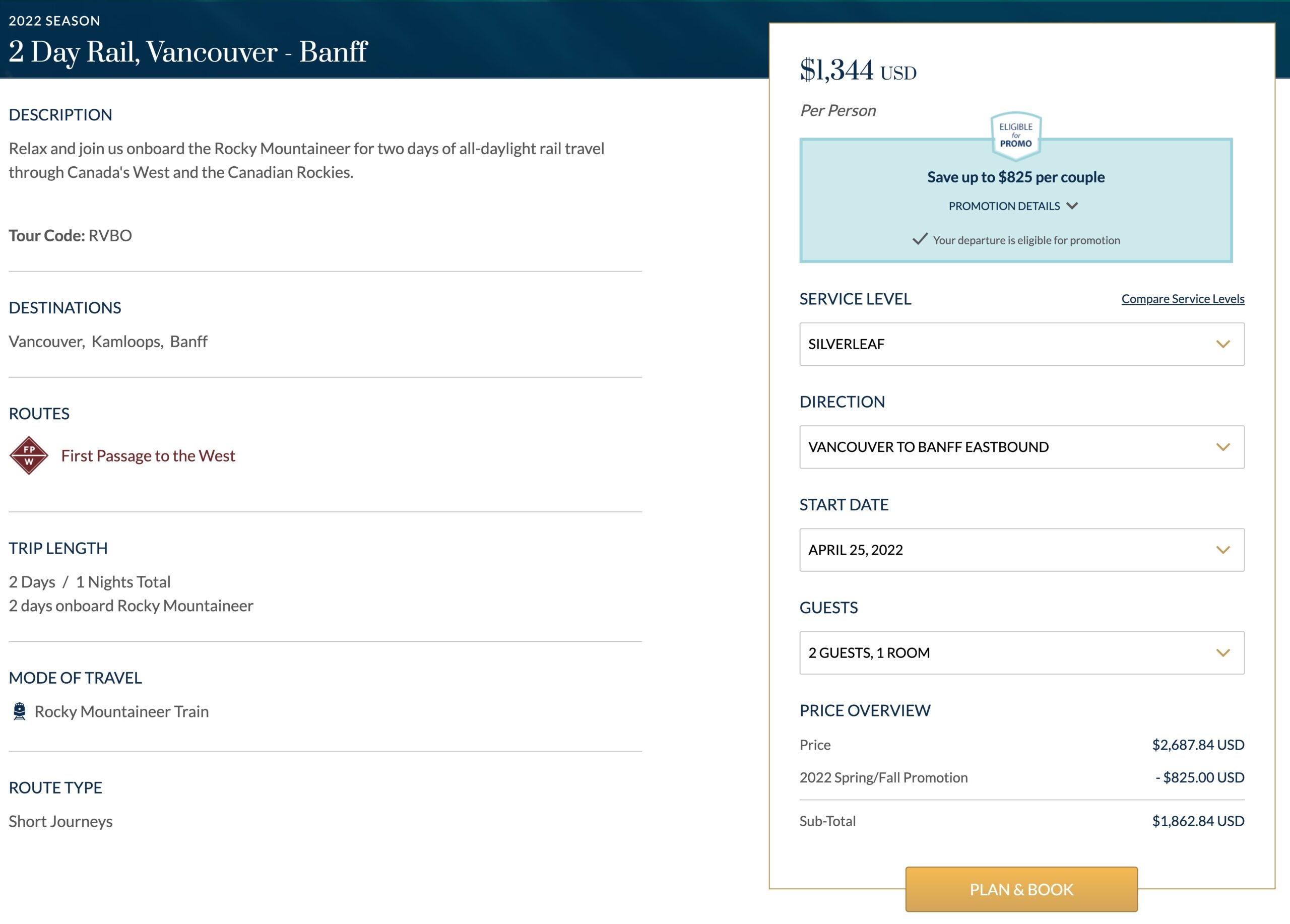 (Screenshot courtesy of Rocky Mountaineer)
And if you wanted to bring a child or travel as a group of three friends, you could book the Rockies to the Red Rocks Classic Salt Lake City tour over Labor Day Weekend in September for $1,521 per person or $4,563 total for three people.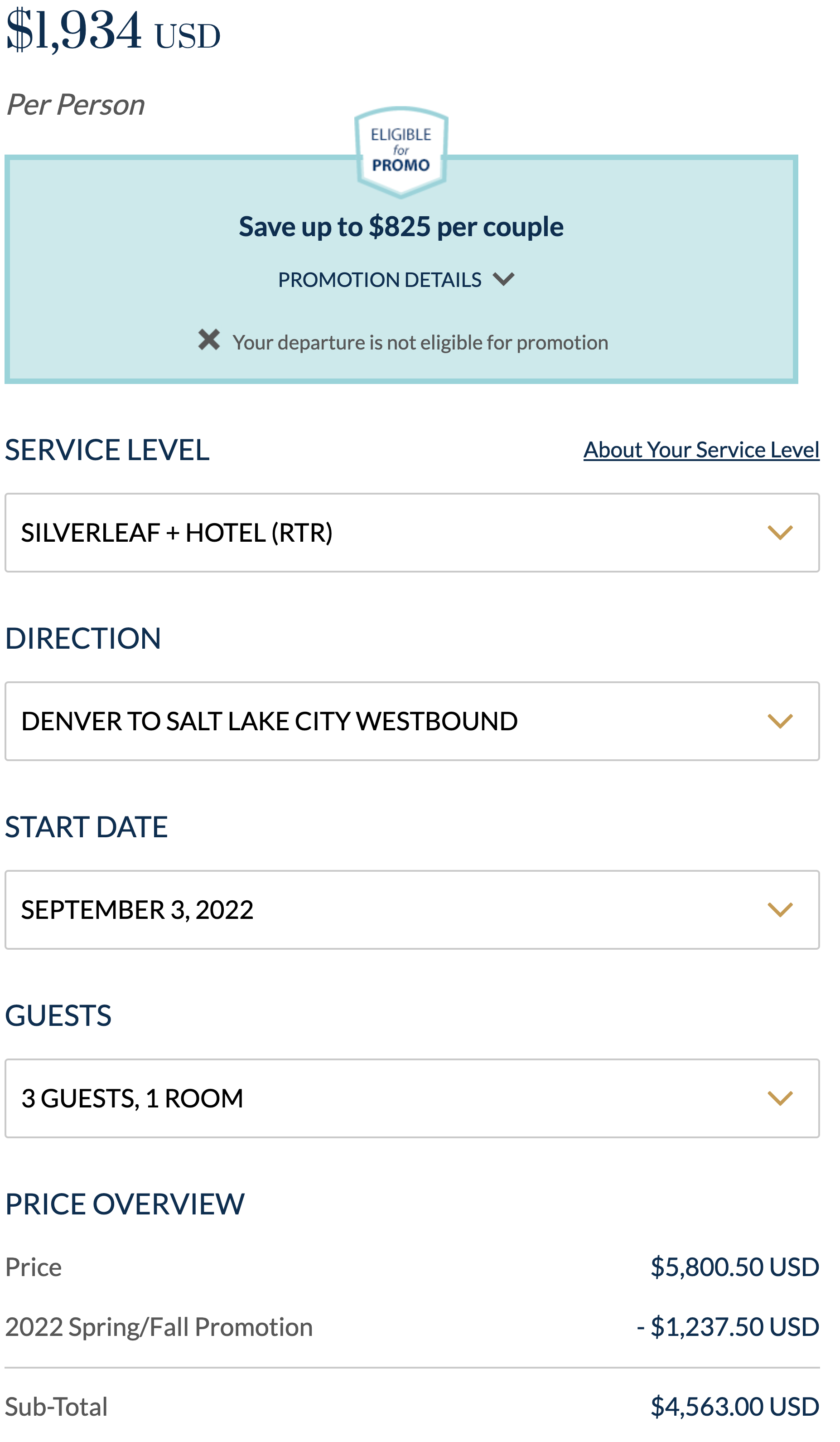 (Screenshot courtesy of Rocky Mountaineer)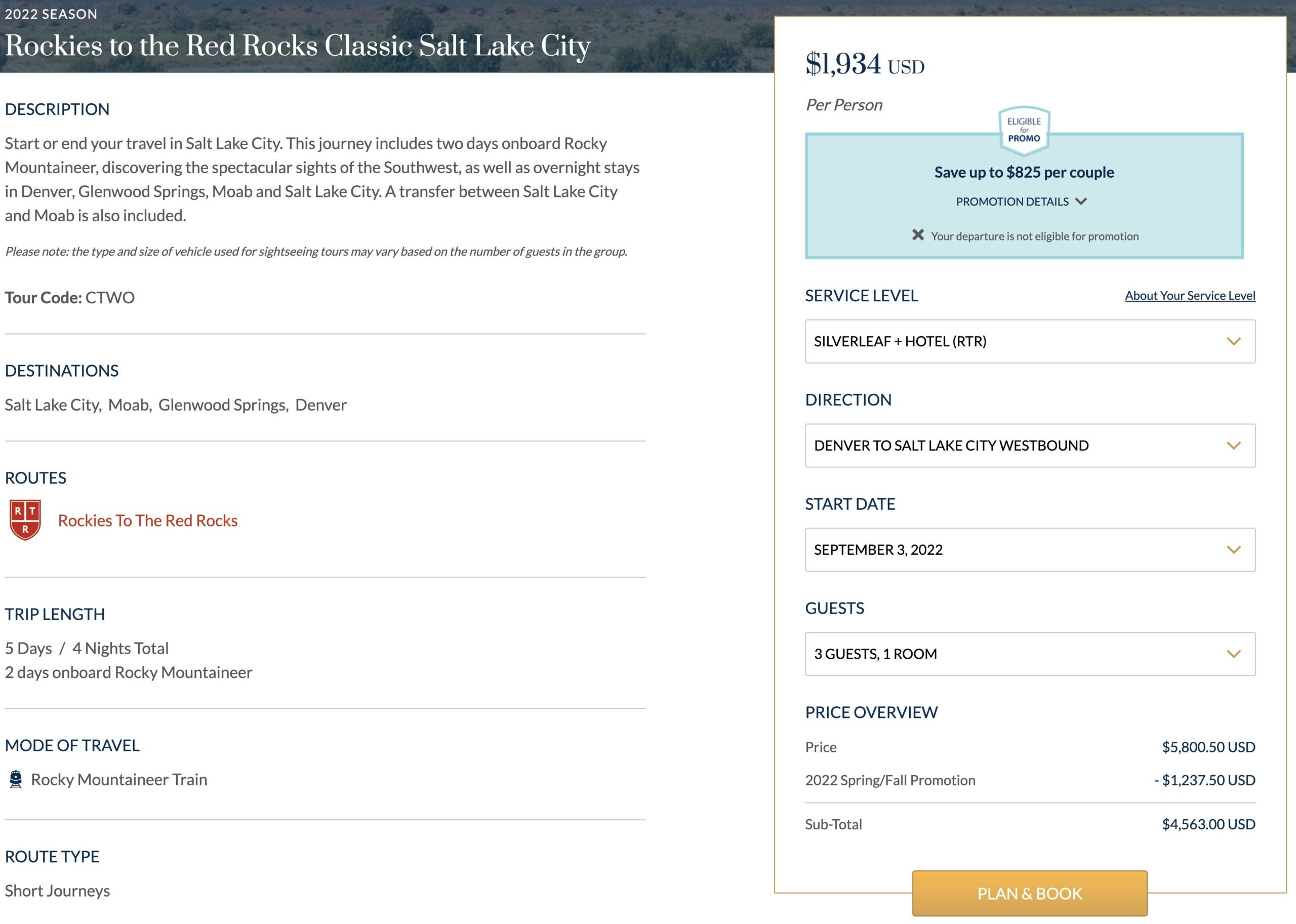 (Screenshot courtesy of Rocky Mountaineer)
Related: Lounge access, upgrades and more: Why I matched my elite status to Air Canada
Earn or redeem Aeroplan points on Rocky Mountaineer
Members of Air Canada's Aeroplan loyalty program can take advantage of a partnership between Rocky Mountaineer and Aeroplan to earn or redeem points when traveling on Rocky Mountaineer trains.
Aeroplan members will receive one point per dollar for SilverLeaf service bookings and two points per dollar for GoldLeaf service bookings. To earn Aeroplan points, you'll need to call 1-800-875-9149 to make your booking and provide the agent with your frequent flyer number.
It's also possible to redeem your Aeroplan points for Rocky Mountaineer eVouchers at the Aeroplan eStore. The eVouchers are sold in increments ranging from $50 – $5,000 Canadian Dollars (CAD). Only one voucher can be used per seat booked and once you receive your code, the booking must be made over the phone.
4,000 points for $50 CAD voucher
8,000 points for $100 CAD voucher
16,000 points for $200 CAD voucher
32,000 points for $400 CAD voucher
64,000 points for $800 CAD voucher
80,000 points for $1,000 CAD voucher
160,000 points for $2,000 CAD voucher
400,000 points for $5,000 CAD voucher
At only 1.25 cents CAD (~0.98 cents USD) per point, this is well below TPG's current valuation of 1.5 cents USD for Aeroplan points. Therefore, it's not a good idea to redeem a lot of points for these vouchers. Instead, I'd recommend saving your points for a flight redemption in the future.
Related: The most compelling new airline card: Review of the Chase Aeroplan Credit Card
Benefits for Aeroplan elite status members and premium credit cardholders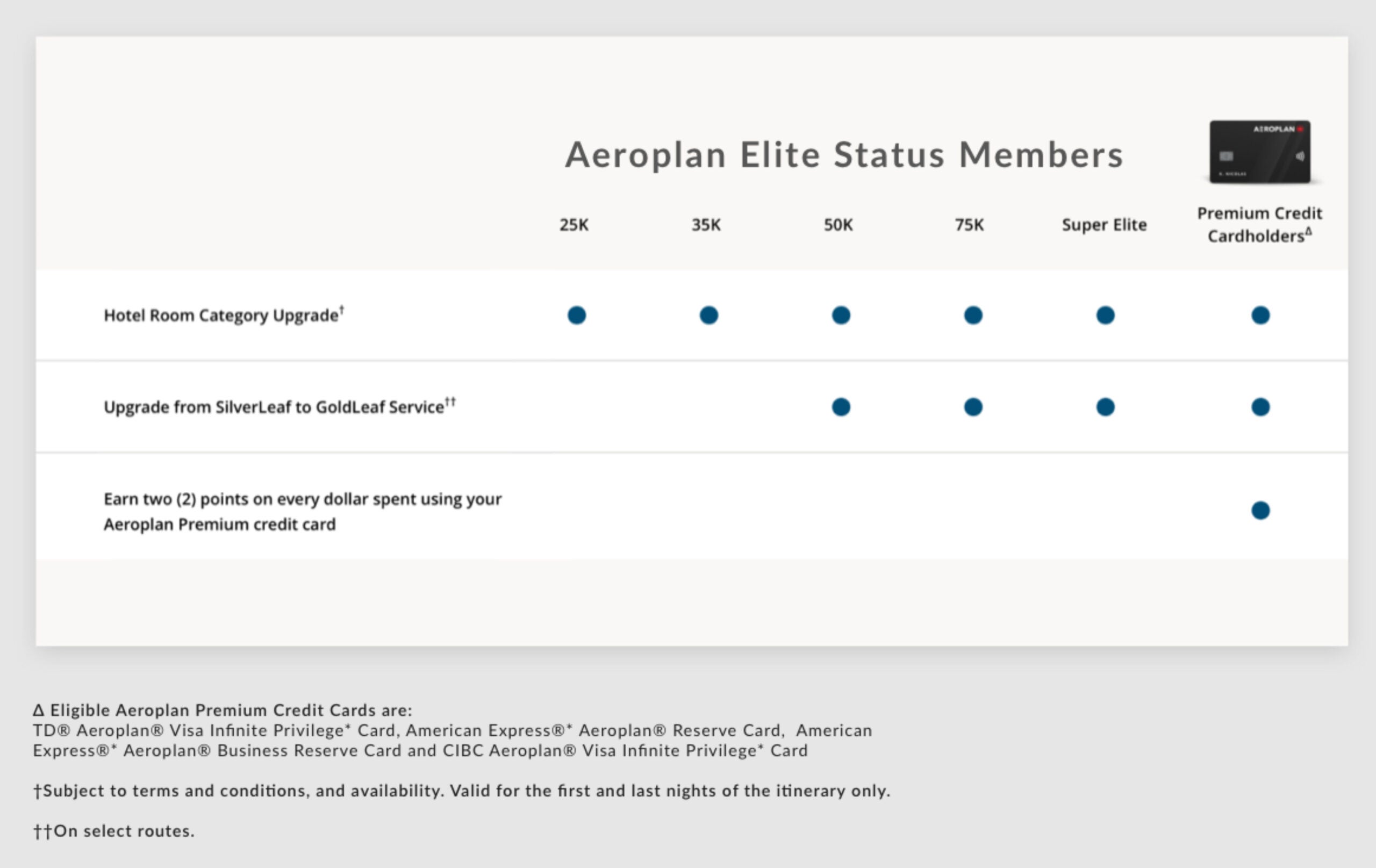 (Screenshot courtesy of Rocky Mountaineer)
Elite status members of Air Canada's Aeroplan loyalty program and eligible premium credit cardholders receive special perks when traveling with Rocky Mountaineer. 25K and 35K Elites receive a room upgrade, when available, for the first and last night of the itinerary. 50K, 75K, Super Elite members and premium credit cardholders receive a free upgrade from SilverLeaf to GoldLeaf service on select routes.
To receive these benefits, provide your Aeroplan number when booking or pay with an eligible premium Aeroplan credit card. You'll also earn two points for every dollar spent when paying with an eligible Aeroplan premium card, which includes the TD® Aeroplan® Visa Infinite Privilege* Card, American Express®* Aeroplan® Reserve Card, American Express®* Business Reserve Card and CIBC Aeroplan® Visa Infinite Privilege* Card.
Related: How to maximize Aeroplan 25K elite status from the new Aeroplan credit card
Bottom line
If you'd like to explore western Canada or Utah and the Colorado Rockies by train, a luxury tour on Rocky Mountaineer—complete with gourmet meals and sweeping panoramic views—is a great way to enjoy the scenery. To help with the high cost, book by the end of February and receive a $412.50 per person discount.
Article Source and Credit thepointsguy.com https://thepointsguy.com/deals/luxury-rocky-mountaineer-trains/ Buy Tickets for every event – Sports, Concerts, Festivals and more buytickets.com